Weekly "Argumenty i Fakty" No. 5. The roles played by Leonid Kuravlyov are still relevant today 02/02/2022
In Spain, young people under 35 will be paid an additional 250 euros if they agree to move out from their parents.
In Russia, young people under 30 do not want to live independently either. Why?

Timofei Zhukov, 27, Yekaterinburg City Duma deputy:
— In principle, any economic or social measures that encourage young people to lead independent and adult lives can only be welcomed. The same housing problem has always been very acute in Russia. A young person who has just received an education simply will not find a job that would allow him to take out a mortgage or rent an apartment and live independently of his parents. So a low-income family simply cannot afford to send a recent child "free-floating". People save, optimize their expenses in order to simply survive.
However, it's not just the lack of finances. The key factor that makes a boy or girl leave their parents and start an independent life, – it's creating your own family. But in recent years, the priorities of young people have changed dramatically. No one is in a hurry to "move in", to get married, and even more so to have a child. Someone is studying, someone is trying to make a career, and someone just wants to "live for himself." In addition, we have become more closed. The young man lives in the world of gadgets, social networks and virtual friends, studies remotely, works remotely. At the same time, it is habitual and convenient for him to live under the same roof with his parents. He understands that, having left them, he will inevitably face the responsibility & ndash; if not for others, then for yourself, your loved one, with concern for your daily bread, and so on. So he will not move out from his parents – even if you make it rich.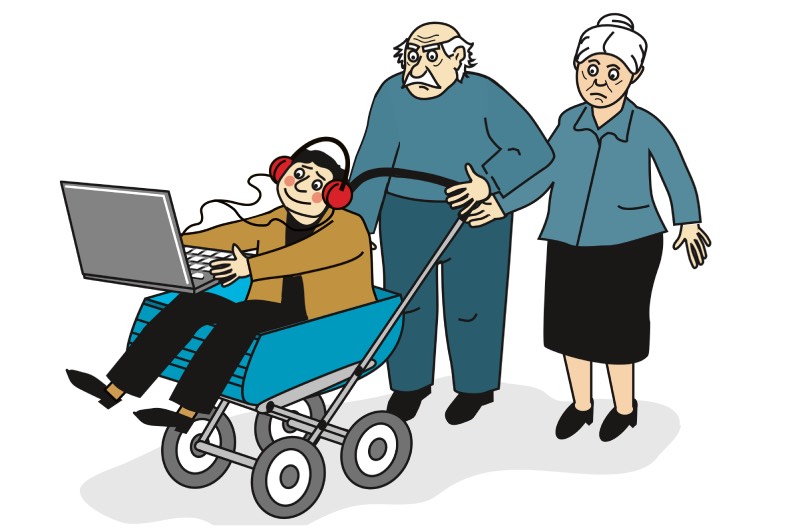 Drawing AiF/A. Dorofeev
I have serious doubts that such a system of encouraging youth, which they want to introduce in Spain, will be effective. Instead of handing people a fishing rod, they are given fish. If a person is transferred 250 euros every month just for the fact that he lives separately from his parents (and in fact – for nothing!), nothing good will come of it: time will pass, subsidies will stop, and a person will already sit on the neck of the state used to it.
I myself have always been quite independent, lived with relatives, rented a house, but this was not the main problem in my life. I think that young people do not need greenhouse conditions. It is better to develop affordable housing programs for young families, promote youth employment, give them the opportunity to receive professional education, master specialties that are in demand on the labor market, and earn decent money. And it is better to spend budgetary funds on helping pensioners and the disabled who really need help from the state.
The opinion of the author may not coincide with the position of the editors