"Many gathered hastily, but there were also those who came out with huge trunks – two by two meters"
Inhabitants of the people's republics of Donbass — Donetsk and Lugansk — Since the evening of February 18, they have been massively evacuated to Russia. This decision was made after the aggravation of the situation on the territory of contact with Ukraine. First of all, they take out women, children and the elderly from Gorlovka, Yasinovataya, the most shelled Petrovsky district of Donetsk. On the Russian side, in the Rostov region, volunteers help them. One of the volunteers — leader of the public movement "For the Truth" Yuri Mezinov. He told MK about what the refugees had to face.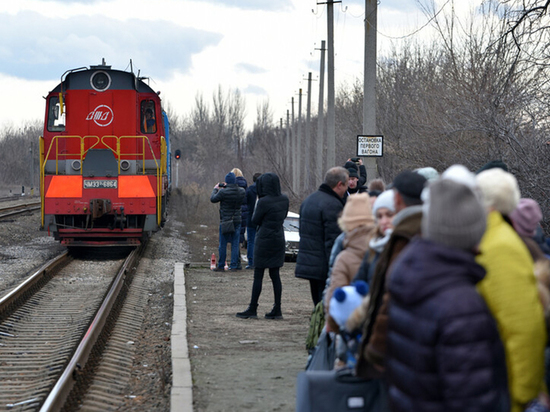 Photo: dan-news.info.
— My colleagues and I worked at the border crossing itself. In the first few hours there were, of course, failures. The flow of people grew exponentially. Residents of Donbass were transported to the Russian border on local buses, then they crossed the border on foot and waited for vehicles on the Russian side. Further, the buses, which were allocated by the government of the Rostov region, went to temporary accommodation points, already accompanied by the police. Transport was not enough at first. And some of the buses were in transit. Near "Kotlostroy" we saw buses from Donbass.
— At night it was quite damp, there was a fog. People are tired and cold. You can understand them. They stood for an hour in the cold loading, another hour spent on their feet at the border. And then the buses were waiting on the Russian side. There were mostly women, children and old people. Among the elderly there were many who were on crutches, with walkers. They could not stay on their feet even for half an hour, and there was nowhere to sit down. It was necessary to put chairs or benches. But none of this happened. Where we worked, there were no heating points. This is a question for the Ministry of Emergency Situations. I myself once worked in this structure, so I have the right to criticize them.
— When we first arrived, there was a crowd of about a thousand people. They had to spend about two hours on the road. It was at the very beginning. Hours at seven in the evening. Children from boarding schools and orphanages, 400 people, stood separately. In another column were mothers with children. Seeing that I was trying to figure something out, they attacked me. I thought they were punching me in the face. Their children are very cold. I drove up my car, ran the kids into it to warm up. The reporters who worked near the border crossing did the same.
Now the Ukrainian side says that people in the Donbass were ready to evacuate, since they gathered so quickly.
— It was evident that many were going in a hurry. Yes, there were those who went out with huge trunks – two by two meters. And someone managed to grab very small handbags. They didn't seem to have any clothes with them. Our social movement has a warehouse. Volunteer friends say that it is necessary to release him now for food and hygiene products. But, I feel that part of it needs to be given under clothes. It will obviously come in handy for the refugees.
Refugees say they have received text messages saying that those who do not have a Russian passport will not be allowed into Russia. They clearly wanted to intimidate people, sow panic.
Yuri Mezinov says that he and his fellow volunteers took those who were going to relatives.
— Some were going to get to the Krasnodar Territory, we took them to the station. Others planned to travel to the Crimea, where they had relatives. Several families were waiting for acquaintances in Rostov-on-Don. We helped them get to the city where they could call a taxi. Because taxi drivers near the border crossing broke prices. There to go 120 kilometers, before the fee was 2.5 thousand rubles, and then the carriers began to ask for 6 thousand. This is despite the fact that people in the Donbass do not live richly. We took everyone for free.
— First of all, people were evacuated from areas adjacent to the front line. They have seen so much that it is impossible to scare them. The woman I was carrying lost both her husband and her brother. They blew up in the stretch. Then he drove a young woman with a child. They left the Donbass in 2014, according to the first distribution, they ended up in Yekaterinburg. When a woman's mother fell ill, she came to her, stayed to take care of her for a year. And now they are all taken out again. There were many old people among the refugees. They all understood that in the near future they could fall under the bombing. That a war is coming, interruptions in food and medicines are possible. So we decided to go to a safe place. And it would be scary for someone who would come out to them and say that he is responsible for their removal and accommodation…
Volunteers helped transport refugees all night. As Yuri says, then there were already columns of 15 buses, and of 17. A real conveyor started working.
— Residents of Donbass were taken to temporary accommodation centers. About five thousand people passed before my eyes.
— You understand, the camps to which they were taken were mothballed a day ago. Can you imagine what it means to reopen facilities for several thousand people? After all, you need to turn on the heating, get groceries, find cooks, administrators & hellip; I have seen how the situation has changed. That thousands of people stood near the border crossing. Then they came, there were already 30-50 people. At customs, they all had to be rewritten. Some were let through without documents, I honestly do not know how they will enter back? This is worth writing about, because we already went through this story in 2014. Those who ended up in temporary accommodation centers received documents under a simplified scheme. Those who went on their own, and then they themselves went to draw up documents — hung around for two years. And now we hear: "We will think of something in Rostov-on-Don, we have money." We ask them to be patient, to go to temporary accommodation centers, we convince them that they will save themselves a lot of time later. In this case, it is better to act all the same centrally.
Yuri says that relatives of children from the orphanage who were evacuated from Donbass are now contacting him.
— The parents of these children are not deprived of parental rights, they are simply forced to leave their children in an orphanage when they go to work. Now they have lost contact with their children, they do not know where they are. The children were centrally and urgently taken to Russia. Relatives did not even have time to pack their clothes and hand over documents. They have had several transfers. The person who drove them forgot his passport at home & hellip; With urgent evacuation, such overlays are inevitable. Now I'm finding out where their children are.
In total, about seven hundred thousand people are planned to be evacuated from the Donbass.
Evacuation from the DPR in photos: storming of ATMs, stampede at the border
See related photo gallery