According to the man detained on suspicion of attempting to assassinate Abe, he was dissatisfied with the ex-premier and wanted to kill him. Now the politician is in serious condition in the hospital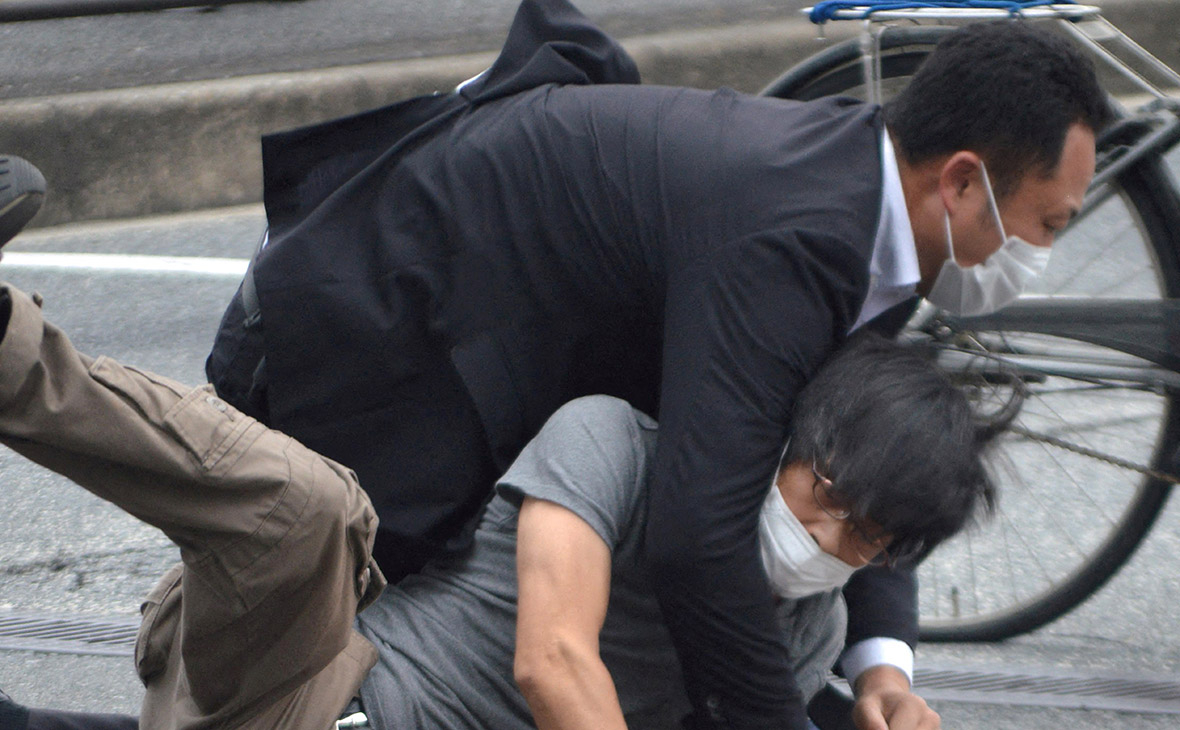 Detention of a suspect in the attack on Shinzo Abe
A man detained after the attack on former Japanese Prime Minister Shinzo Abe said he wanted to kill the politician because dissatisfied with his policies, NHK reports, citing the police.
Suspect— A 41-year-old resident of Nara, where Abe was attacked. His name is Tetsuya Yamagami, he served in the Japan Maritime Self-Defense Force in the early 2000s, NHK reports citing a source. This was also confirmed by a Nihon TV source.
Abe is showing no signs of life, according to NHK.
The ex-premier was shot during a speech he gave in city ​​of Nara in support of the Liberal Democratic Party, which he previously headed. NHK, citing the police, writes that Abe received injuries to the chest and neck.
Japanese media, citing emergency services and representatives of the Liberal Democratic Party, reported that the politician allegedly suffered a cardiac arrest, but doctors have not yet reported the death of Abe.
The current Prime Minister of Japan, Fumio Kishida, said that Abe is in serious condition.
Read on RBC Pro Pro How companies won court cases with employees thanks to KEDO: three cases Cases Pro How to remove sanctions from a person or company. Step-by-step instructions Instructions Pro Meteorological dependence: myth or reality Instructions Pro Only 20% of the company's employees are talented. Why this idea is dangerous Studies Pro Loves cola and hates sports: how the anti-life Elon Musk lives Articles Pro How the US and EU authorities are trying to reduce the price of fuel for consumers Articles Pro Your disputes with a teenager end in scandals. What You're Doing Wrong How To Pro Sleep 8 Hours a Day and Be Lazy: Jeff Bezos' Healthy Habits Articles
The politician was initially reported to have been shot with a shotgun, but police later clarified that a handgun was used in the assassination attempt. NHK, citing a source familiar with the investigation, said the gun found at the scene was homemade. A Kyodo correspondent reported that the barrel of the weapon was wrapped with duct tape.
Abe was Prime Minister of Japan from 2006 to 2007 and from 2012 to 2020. He was in office more than other heads of government, and also more than other leaders of the Liberal Democratic Party.
Authors Tags