The ex-president of the United States may not go to prison, but his positions are actively strengthening
The search by FBI agents of the Trump estate in Mar-a-Lago in Florida last week was limited to not only searching "secret documents". The most searched politician in the United States complained that agents had confiscated three of his passports. What next awaits Trump in the current situation and is a real prison term possible? Dealing with an expert.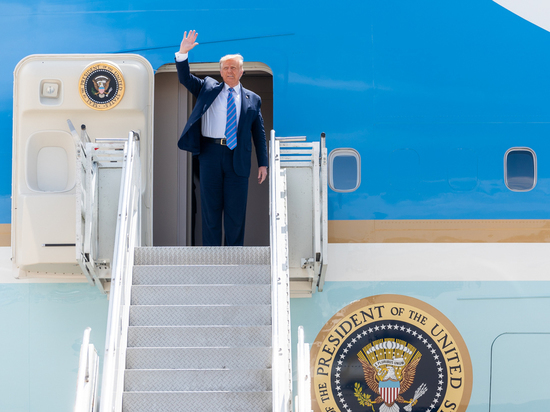 Photo: Global Look Press
Last week was one of the toughest in recent months for former US President Donald Trump. FBI agents broke into his residence in Mar-a-Lago on the pretext of searching for some "secret documents". Later it became known about the seized "box with documents in leather cover", "folder with photographs"; and "handwritten note". The list of confiscated items was supplemented by "top secret" and "confidential" documents.
For the United States, this situation has become absolutely unprecedented. Previously, no American president has been subjected to such "events".
In addition to all the documents that were already officially known, information about Trump's three confiscated passports suddenly appeared. Moreover, the "victim" himself shared such information.
On his own Truth Social, Donald Trump wrote: "During the FBI raid on Mar-a-Lago, they stole three of my passports, one of which was expired, among many other things."
The politician also supplemented this message with a statement that "this is an attack on a political opponent at a level never seen before in our country. A third world country.
A Justice Department spokesman was quick to report that Trump's passports were not in the possession of the FBI and were in fact returned to the former president.
Outwardly, the situation around Trump really looks like a specially planned political game. Only the winner has not yet been determined. And the prospects of the former head of the White House in the political dimension are still quite blurred.
– As for the current situation, quite serious charges have been brought against Trump, – comments on "MK" director of the US Research Foundation. Franklin Roosevelt at Moscow State University Yuri Rogulev. – It is difficult to say what these accusations are based on. But the search warrant, which was issued by the court at the request of the Department of Justice, includes the issue of state secrets, espionage, that is, treason, and the transfer of US secrets related to nuclear weapons. As far as we understand, whether this will be confirmed or not – big question. If confirmed, he faces a prison sentence.
Given Trump's status, the question arises of how real the imprisonment of the former president of America is. After all, the very nature of the situation is rather controversial.
According to Yuri Rogulev, it is premature to talk about such a development of events. And it is unlikely that such a final will come.
– I think that it will not end with anything, no prison term. At best, they will announce some kind of censure, or an administrative fine. But we understand that any high-ranking American official, when he finishes his work – takes documents from his office. And he has the right to them, this is his personal archive, – the expert explains. – In this sense, officials, taking these documents, decide for themselves where to place them. In principle, for Trump, as a former president, they should prepare an archive and a presidential library at public expense, where these papers could be placed.
However, the number of those documents that attracted the attention of agents does not fit in a couple of pieces of paper , which can be discreetly hidden and taken out of the White House. We are talking about whole boxes with valuable information.
According to the rules, the expert claims, the removal of all confidential and secret papers is formalized in a certain way. To claim that the former president himself was capable of secretly carrying out such information – rather strange.
– As for secrecy and not secrecy, then there are rules. Naturally, we understand that Trump did not put these papers in folders himself, but folders in boxes. He has an office for this, specialists, but the fact is that all the documents that the president works with – either for official use or secret. Another thing is that they lose this secrecy and there is a declassification procedure. Therefore, we cannot trust the FBI to what extent these accusations are justified. Some US senators express fears that they could have staged a provocation, put some folder in the box that should not have been there.
This assumption sounded from the lips of Trump himself. Speaking to Fox News, he lamented that "there has never been a time when law enforcement has been used to break into the home of a former president of the United States, and the country is in anger at a level that has never been before." p>
Foreign and domestic experts increasingly see only political interests in what is happening, and not the struggle for the truth. It is almost impossible to predict exactly how everything will turn out.
– The chaos and commotion that is now being observed in the United States is taking place before the elections (the mid-term elections to the Congress will be held in November of this year. – "MK"), – comments Yuri Rogulev. – Elections will be held, maybe everything will calm down for a while. I think no one will put Trump in jail before the election. They will try to inflate everything within a certain time. My opinion: this scandal, as in all previous times related to the impeachment of Trump, is designed to launch this campaign. But what will it lead – big question. Because society will not calm this down and will not eliminate the split.
Against the backdrop of Trump's unequivocal accusation of all sins by the current American authorities, the unity of supporters of the persecuted politician is strongly knocked out of the general mood.
According to Fox News, Trump's followers were largely inspired by the search, rallied around the former president and criticized these events as a political move, as it comes at a time when many are waiting for him to announce his plans to run for a new presidential term.
People also note the growing number of Trump supporters.
– We see that the number of Trump supporters increased by 10% in the Republican Party after the actions of the FBI, – says in a conversation with "MK" Yuri Rogulev. – Some even came with weapons to the local FBI office and demanded that this organization be covered up. Among supporters, the authority of the politician will increase. The opposite camp already hates him, and this situation will definitely not add love to him. But among the supporters of his position may get stronger.