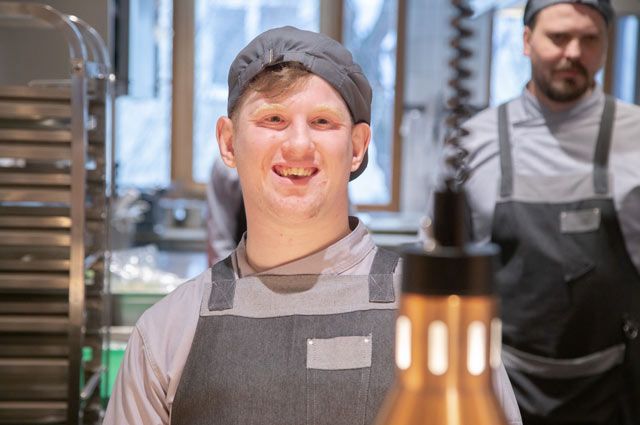 Features of — not a reason to refuse work and hide a person from the outside world. We tell the story of Evgeny, who lives with Down syndrome and works as a cook.
Across Russia, more than 150 thousand people with mental disabilities live in neuropsychiatric boarding schools — both able-bodied and those without it. But only a few manage to get out of the walls of the regime institution, which controls their whole life. There, they decide for a person what he wears, eats, when he gets up and lies down, what he does. Most of a person's pension — 75% — the structure retains due to its content, but the rest of the guests often cannot get it, and often they simply do not know about it.
But according to the experts of the social project of the ONF "Region of Care", half of the residents of the PNI can live independently with little social support.
At the same time, some people with special needs live in boarding schools for mentally retarded children who in the mid-2010s, they were renamed the Centers for the Promotion of Family Education (TsSSV). Eugene, whom we meet, used to live in one of these.
"Don't worry, he can handle everything"
Now Zhenya is 24 years old, he has Down syndrome, but he has retained his capacity. The guy has been living in the Guryevskiy Assisted Living Center in Moscow for a year now. Here, young people are taught various everyday things, such as cooking or cleaning, getting to work, going to the store, relaxing and living independently. Zhenya learned to cook in a year. In December 2021, the center's employees helped him get a job as a chef in a restaurant in the center of Moscow. Soon Eugene will have to go through a housing commission in order to get an apartment and start living on his own.
With him, his mentor Maria Lavrinenko and his boss, the chef of the restaurant Mirko Dzagowe meet right at the workplace.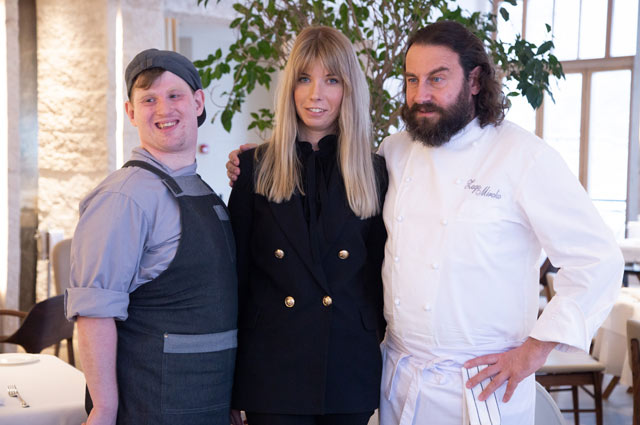 Photo: personal archive
— ​Zhen, did you want to work as a cook, cook?
— Yes, I dreamed. I was looking for a job, but it didn't work. And then I was offered this place, I accepted. I really like it here, I like Mirko.
The chef laughs it off in response: "I'm angry, formidable, admit it."
— No. My dream came true, I hoped so. I am lucky that I actively participate everywhere, I work. I am satisfied with my work, with what surrounds me.
— ​Do you remember the first day here?
Zhenya: I was worried … But there was a feeling that I could handle it, I would be the best here. Everything is fine with me.
Mirko: When I first came here, it was difficult for me, like for any person in a new workplace: you need to understand what, where, how what. He even did it quickly. I have people who, on the contrary, are more difficult to converge with the team, because they are more closed. And he communicates quite openly.
Zhenya — he is very educated. In our world, not everyone is like that: there are young people who are worse brought up. And he comes to work with a smile, leaves with a smile, which is very significant for me. When a person does something that he likes, it is not so difficult, and then everything will work out for him, because he enjoys it.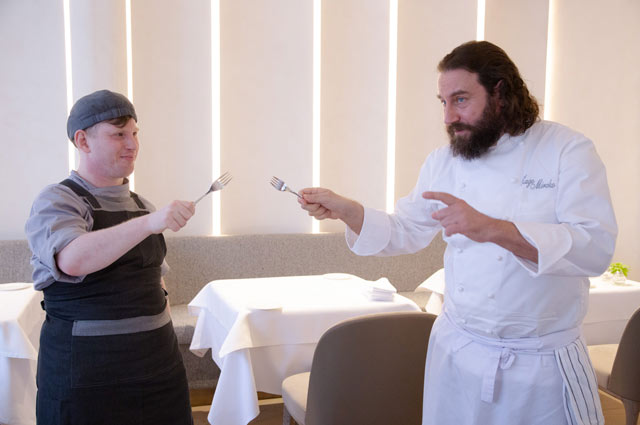 Photo: personal archive
Maria: We were worried whether he would succeed or not. But Mirko kept saying, "Don't worry, he can handle everything." And I saw Zhenya's eyes. When he came after work, he said: "Thank you very much for arranging me." He really liked it, this is his place, he found himself.
— Why did you decide to take Zhenya? Was that your decision?
Mirko: Joint.
Maria: When Mirko and I met , he said that he had a similar experience, and he did not mind if one of the guys wanted to become a cook. We offered him Zhenya.
Mirko: There are various difficulties and dangers in working in the kitchen. Naturally, you need a person who is a little ready for this. First, we arranged an internship, as for any person who comes into the kitchen to see if he is able or not to work. He works for us as a cook in Europe — for 6 hours: like half a working day in Russia or, if in Europe, then almost a full working day. It's just that in Russia it is a little longer, nowhere else is there such a 12-hour schedule.
I was most worried that nothing happened to him, because there are many dangers in the kitchen: hot water, oil, pasta machine — What if he puts his fingers in it? And of course, I always left one person nearby, because he was not familiar with the equipment. In my 30 years in the kitchen, I've seen that anyone can make mistakes. He just needs to gain experience now.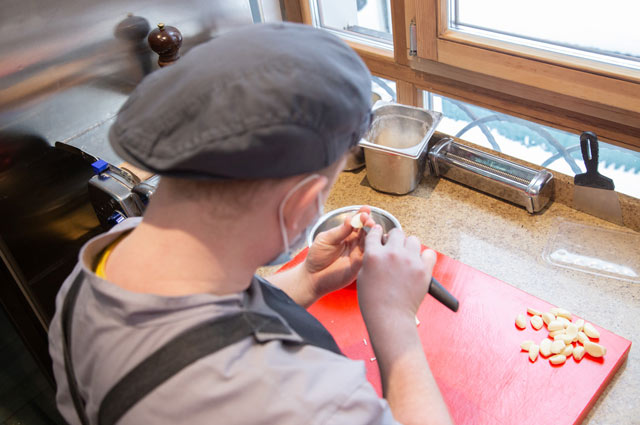 Photo: personal archive
— What do you like to cook more?
Zhenya: Pasta, pasta with meatballs. I make a casserole well, I cooked it for myself yesterday. I bought groceries and made myself an excellent cottage cheese casserole. I myself liked how I cooked it: it is wonderful, beautiful.
— What is difficult for you to work with, maybe something cannot be cooked?
Zhenya: When something doesn't work out for me, I ask for help. But I do it myself, I don't get nervous, but they help me, they tell me. At the beginning, when I came, I didn't succeed, but now it works, I understand how it's all done.
— ​What are you dreaming about now?
Zhenya: I would like to work here again. I enjoy it.
Mirko: People run away from me (laughs).
Zhenya: What are you, I will not leave, I will not give up. I will never give up. I won't let down mine or anyone else. I'll go ahead.
— How are your relations with your colleagues?
Zhenya: Just class, I like it how they communicate. I make them happy, they make me happy.
I like all my chefs here, the manager Masha, we greet her, she smiles at me, I smile at her, we tell impressions to each other. She asks if no one offends me? And I say no, everything is fine with me.
Colleagues said that it was dangerous here. Here is Dima, who quit his job, showed me his hand that he had burned himself, he had blisters, it was scary. That's why I'm careful, I'm afraid for my life myself, I don't want to let anyone down here. I realized that they are responsible for me here.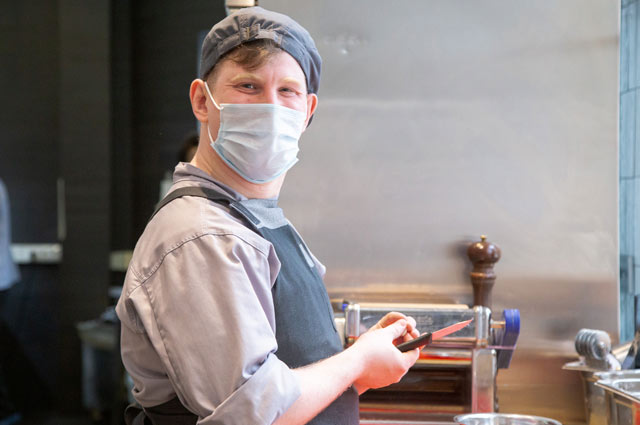 Photo: personal archive
— Have you cooked a lot before this?
— I learned when I arrived at the center, before that I didn't know how. Now I already have my own life, I bought pots, I cook for myself. And I try to learn to live independently. I will soon go to the apartment, I will prepare for the commission in 2023. If I pass it, I will live alone.
— Did colleagues accept each other easily, were there any problems?
— Yes. Honestly, I've been in Moscow for 20 years, there were employees with whom it was a little more difficult than with Zhenya.
— How guests react — Do they know that Evgeny works for you?
Mirko: Some people know, some don't. I don't think this is a particularly correct approach. After some time Zhenya became like everyone else. For me, it's no worse, no better. He does his job, he has his own chips. Now he works as an assistant, I cannot demand something from him, as from a person who is my sous-chef at the distribution.
Next step — he must grow: we will teach him new knowledge, other things. Of course, it can be more difficult for him, but honestly, it was a little more difficult for him initially in life. Therefore, the person is probably used to it. I can't say that tomorrow he will be the chief until it's too early. But that's with anyone who wasn't in the kitchen.
"Just one note for you, — Mirko addresses Zhenya, — you have to learn how to put on an apron properly. You always wear it up to your neck, you're afraid to get dirty.
— Is this the only comment?
Mirko: No, I make a lot of comments, but it's part of the job, right, Zhen? We grow together through them.
— ​Zhenya, what do you do in your free time?
— I cook, watch TV, series, go out with friends. I have fun: I go to cinemas, shops, I eat what I want.
The students of "Guryevskoye" The whole day is scheduled, says Maria: "Someone studies, goes to school or college, all by public transport. Some people go to college first, then work and other activities. Now let's go to a training session with the guys who play hockey, 6 people. We have an orchestra. And in their free time they can go to the theater, cinema. Recently, the attitude of society towards them has improved, the teacher believes: "To meet sharp criticism, the negative is now more difficult, they began to be accepted. Previously, when we traveled by public transport, they did not always look at us correctly.
All problems are due to fear and ignorance
Zhenya — far from being the only person with developmental disabilities employed in Russia. Svetlana works at the Palliative Care Center in Moscow. As Maria says, "she likes everything, and the team accepted her, like Evgenia." Other students of "Guryevskoye" work in the My Documents Center: someone as a courier, someone with documents, and someone distributes masks at the entrance. Everything according to their desires and abilities, the teacher says: "We ask the guys what they dream about, what they would like to do, and we already employ them based on their interests, disposition."
But still , not everyone agrees, and "many are wary of our decisions," Maria notes. According to Head of the Human Resources Department of the Palliative Care Center Anna Kobzeva, which suits Sveta, the problem here is "unpreparedness of the staff to work with special people": "Fear of contact with such a person, an absolute misunderstanding of how he can behave, how to work with him, how to talk to him and how to teach him" .
There were also legal problems, Anna says: "We didn't understand how to make documents, how to sign them correctly, we involved lawyers."
"If at first colleagues had fear, because they did not understand how to approach her, now they consider her their child, help, take care of her, — Kobzeva says. — Moreover, they said that they were ready to take on more such employees, especially since Sveta works very well, they did not expect this. She takes on any work, performs it qualitatively, and is very eager to grow. But we had to make her a separate workplace and an individual job description — this is due to the requirements for a special assessment of working conditions.
Who is responsible for changes in society?
Director of the Palliative Care Center in Moscow Nyuta Federmesserbelieves that the main problem with the socialization and employment of residents of PNI — in the unwillingness of the leadership of the PNI themselves to deal with this issue. Because "it's very convenient when all the sheep are in your pen and you see everything, control them, no one goes beyond the fence," — says Federmesser. There is also stigmatization from the staff of the institution: "Who needs our wards? They will be robbed and offended there, in the outside world. But according to Federmesser, there are many places where "special" people can fully work: in the wardrobe, as laborers, in the kitchen, cleaning rooms, landscaping.
"So that people are not afraid to work together with the guys from the PNI, you must first show these guys to the world, get them out of the PNI, get to know them, then it will become clear to everyone that they are no different from you and me, — explains Federmesser. — It is ideal that a request for this matures in society, and then all changes will occur much faster, but this request still needs to be formed. To do this, NGOs, the state and the media should work together. Although, of course, the state is the least interested party. The state is comfortable in the system in which it lives.
According to Nyuta Federmesser, their goal — change the quality of life of people "unfairly punished by an inhuman system of pseudo-social protection." They shouldn't live like they're in prison, says Federmesser.
"And it's terribly sad that today it is possible to change the quality of life only in such a point way: Sveta, Zhenya, some other guys, just a few people. From within the system, without external influence, the situation itself will not change. Employees of PNI — people are mostly frightened and very afraid of losing their jobs, because in most regions boarding schools are located far from big cities and there is simply nowhere else to work. And even the most compassionate, sweet, caring people who are there sit quietly and do not argue with the established order, — notes the expert.
The Law on Distributed Custody
For several years, social activists and parents of children with mental disabilities have been seeking the adoption of a law on distributed custody in Russia. In 2015, the bill on distributed guardianship was submitted to the State Duma, a year later it was adopted in the first reading and sent for revision, after which the terms for re-consideration have changed more than once. They remembered him in 2019, and in 2022, Nyuta Federmesser hopes, he may be accepted: "I have reason to think so, this is not a groundless hope."
As conceived by social activists, the bill must allow the appointment of more than one guardian for an incapacitated citizen. So parents, NGOs, close friends will be able to become co-guardians at the same time, and a disabled citizen will be able to live not only in a boarding school, but also at home. Alas, the current version of the bill does not allow to separate the functions of a guardian, and all the original meaning has been lost.