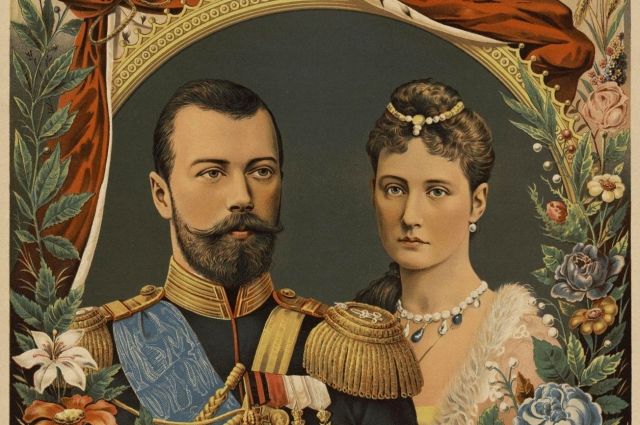 150 years ago Empress Alexandra Feodorovna (Princess Alice of Hesse) was born — wife of Nicholas II, one of the few emperors in the world who married for love.
A second cousin and sister, the Tsarevich and Princess met when he was 16, she — 12 years. Nicky couldn't ignore the golden-haired girl with blue eyes. The wrote in diary: We love each other I am very, very sad that dear Alix will leave me»…
They were not even allowed to chat
In 1889 they met again in Petersburg. Alix and Nicky talked a lot, danced. It seems that even then it was clear to them that they were made for each other. Didn't want to leave. The following lines appeared in the Tsarevich's diary: "I" dream of marrying Alix G someday. . All this time I did trust my feelings, didn believe that my cherished dream could come true».
Relatives (including including father Alexander III ) were categorically against this marriage. Moreover, Alix was not Orthodox.
For 10 years, the lovers fought for the right to be together. During this time they saw each other only twice. But with stubbornness they rejected the offers of profitable parties", which were made by their relatives. Young people were even forbidden to correspond — assisted by Alice's sister, Grand Duchess Elizaveta Feodorovna.
Only in 1894, when the health of Alexander III began to cause concern, he blessed Alix and Nicky for marriage.
The date 8 April 1894 in in Nikolai's diary is underlined three times . "Wonderful, unforgettable day in & nbsp; my life! The day of my engagement to my dear, beloved Alix».
"She was crying all the time and and"whispered "No, I can can" — later shared with Nika's mother. — I… kept insisting..and although this conversation lasted two hours, it did lead to nothing neither she nor I did concede. I handed her your letter… They left us alone, and… from the first same she agreed! I wept like a child, and so did she… She brightened up, and peace came to her face the whole world changed for me at once… I don't know how to thank God for such a good deed…"
In autumn, the princess converted to Orthodoxy. And less than a week after the death of the emperor-father, Nicholas and Alexandra got married. Before the wedding, he sent her a note: "My precious Sunshine, I woke up with your sweet name on lips and prayed so deeply and fervently for your well-being, health and happiness. My little, my only, impossible to express in words how much I love you, & nbsp; & mdash; I am full of my love…God bless you, my Alix. Nicky».
The words turned out to be prophetic
The celebration was modest. The first month of the newly-married spouses passed in the atmosphere of memorial services and funeral visits. But bad feelings the newlyweds did not appear. They were happy. In the diary of her husband, the queen wrote then: "There will be no more separations. Finally united, we are bound forever lifetime, and when this life is over, we meet again in the other world and stay together forever».
No one could have imagined how prophetic these words of Alexandra Fedorovna would turn out to be.
23 years of marriage flew by for the imperial couple like a real honeymoon. In infinite respect, trust, mutual understanding. And in great love, which not many crowned persons managed to know.
Nikolai and Alexandra almost never parted (with the exception of wartime). And the days apart were extremely hard to endure. When they had to part, Alix wrote that she was very bored and kissed Nika's pillow at night. On the anniversary of the engagement on April 8, they were always together, parting only during the war — in 1915.
the first time in 21 we spend this day not together the empress wrote to her husband at the front. I saved the princess"dress"which which was that morning and I will put on your favorite brooch».
The diamond brooch had its own story. Nicky gave her to Alix on the day they first met, but how could a girl accept such an expensive gift from a second cousin? That time she returned Nicky's brooch. And after the wedding, he again presented it to his beloved. And Alexandra Fedorovna carefully kept the jewelry all her life.
Careful, touching and tender until the end of days were the relationship between Nicky and Alix. Correspondence of lovers, miraculously preserved in Yekaterinburg after the massacre of the family of Nicholas II, — vivid proof of their feelings. It is no coincidence that in Berlin the letters were published four years after the death of the emperor and his family. From July 1914 to December 1916 alone, 400 epistles — twice as many as in 20 previous years. There was a war, the spouses often had to be apart. Alexandra Fedorovna wrote to her husband every day: both detailed letters and short telegrams. She wrote in English, only sometimes inserting in Russian some names, words and phrases.
They did not live long, but died in one day
"My sun, my precious", "my boy, my sunshine", "my dear treasure, my dear", "my most beloved of" beloveds, "my dear love", & nbsp; & mdash; addressed Nicky Alix.
"My dearly beloved Sunshine, dear Wife", "my beloved darling wifey", "my dear, dear", "my dear little Alix", " my Aliki, my beloved, dear wife, "my dear Alix, my own wife, my joy, my happiness, my whole life!", — echoed Niki.
Their earthly path was filled with love, tenderness and happiness. It seems that sometimes they didn't have enough words to express in words the feelings they felt for each other. Despite the genetic illness of the heir Alexei, the ailments of the Empress herself, the wars and sufferings associated with them, and stormy charitable activities, which Alexandra Fedorovna was engaged in. Loved, stronger than words can express. I don't know why you choose me. I not especially admire your choice, but woe to you if you made another — what was said at the beginning of the relationship with Niki Alexandra Fedorovna could and repeat at the sunset of her life.
Fate measured out half a century for Nicholas II, Alexandra Fedorovna — 46. ​​They did not live long. But died in one day. In order to be glorified in the face of saints many years later.
Rate the material