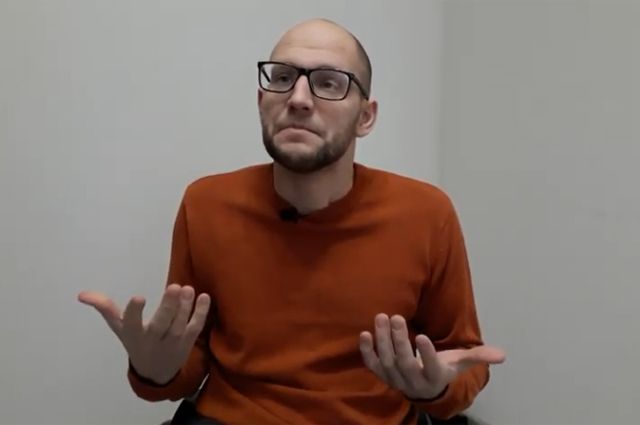 help NOW
Dima and Olyahave been together for two years now. For more than a year and a half of them, they live together and do not part for a long time — despite the fact that Dima is still unable to walk on his own and needs long-term rehabilitation.
With Dima and Olya, we agreed to meet in a cafe not far from their rented apartment in Moscow. Arriving there a little earlier than the appointed hour, I was unpleasantly surprised by the internal staircase leading from the entrance to the hall. She was a small — only three or four steps, but even this height can become a tangible obstacle for a person in a wheelchair. I understood this, but it was too late to retreat. While I was choosing a comfortable table for three and removing one unnecessary chair, Dima and Olya were already making their way through the Moscow slush of dirty snow and ice for their first joint interview.
Dmitry Cheshev— coach, motivational speaker, ward and friend of the AIF. Good heart". In 2020, when we were all in quarantine, Dmitry even became the foundation's personal self-isolation expert. His advice then helped our readers a lot, because it is difficult to imagine a more active and resilient person who does not fit the label "immobility" at all.
View this post on Instagram
Dima uses a wheelchair for 11 years — that's almost a third of his life. But this is just the case when the injury did not break life, but gave it a new direction. Behind Cheshev over the years: studies, sports, career changes and, of course, dozens of rehabilitation and therapy courses in different cities of Russia. The last time she and Olya lived in Crimean Saki for a year and a half to go through all the necessary procedures, breathe in the sea air and just be together.
« car, said goodbye to friends and quit her job.
Olya says that it was not easy to decide to move with Dima — by the time he was supposed to go 4000 km away for treatment, they had only met for a little over a month. Yes, they really liked each other, but to live together? The pandemic helped Olya make an informed decision. Due to quarantine in April 2020, the trip to Crimea was postponed for the summer, and he and Dima had a little more time to get closer, and also — find a remote job and rent a house together in the Crimea.
"We took coffee to go and drove out of town to spend time with each other, get to know each other better and… probably fall in love" , — recalls Dima.
View this post on Instagram
Both of them enjoyed their life together. Olya passed the certification for the vacancy of a furniture manager and began working remotely in a St. Petersburg company. Dima conducted online trainings, underwent a rehabilitation course and played his favorite sport — swimming. Before the injury in 2011, Dima was a swimmer, and now in the water he could do what he had not yet been able to do on land.
At first, the couple planned to spend only three months in Saki, and then return to their native Abakan but fate decided otherwise. In October, when it was time to fly back, Dima and Olya were horrified — it turned out that they were not ready to end the small life that they had already built together.
"Before the trip to the Crimea, we lived separately. I lived with my mother. And now we live together, we love each other and we like to be together … All this time I thought about what would happen next. Will we return to Abakan and each go to our own homes?»
Then Dima came up with a plan: it was decided to postpone tickets until December and return to his relatives closer to the New Year.
"When I was packing my suitcase for the Crimea, I took a warm coat with me — And it's early summer! For some reason, I was in the mood that if it was good there, then we would stay, — Olya confesses. Her intuition did not fail her, and the coat really came in handy. Warm clothes were sent to Dima later, and this also became a sign.
"At some point, my mother sent me something from home and wrote that she had nothing else there, which means — nothing is holding me back. And it was true.
They never returned to Abakan. From the Crimea they came immediately to Moscow — at night, in the midst of the November lockdown, with a stroller and two huge suitcases.
Moving to Moscow was Dima's youthful dream. After the injury, plans to conquer the capital had to be postponed, but now nothing interfered with Olya. The couple started looking for an apartment last summer and constantly joked: "Well, what is the chance to rent an apartment from a disabled person and a "non-Slavic" girl? appearance?» However, they found an apartment: in a good area, near the Akademicheskaya metro station, where we met.
"Two years ago, on November 5, I invited Olya on a first date. Did I think then that in exactly two years we would move to Moscow together? Did I know that we would live with her for a year and a half in the Crimea? Of course not. I thought that she was very sweet, beautiful and interesting. I thought about how I need to turn on all my charm, make funny jokes and say something smart. And I'm happy that I did it.
Olya's second move was relatively easy: "There is work. So, I just take my laptop with me and go wherever I want! — she says. Now they are settling into a new reality for themselves and are trying to master the very accessible Moscow environment that they have heard so much about. It turns out so far with varying success: snowdrifts, ice, stairs in the subway and vehicles with high steps interfere.
But for Dima, this has long been no longer an obstacle, but a challenge. Therefore, we decided to shoot a real Moscow series with him: about love, life, sports, work and "mobile Moscow". Check not only the accessibility of the environment and the responsiveness of others, but also show all aspects of life in a big city, which healthy people almost never think about. Moreover, it is not the first time for Dima and Olya to overcome barriers and adapt to new places. Next time we will learn how to find, choose, rent and equip a house in the Crimea and a rented apartment in Moscow, moving in a wheelchair. And how can two adults not go crazy, working together from home and getting used to each other.
AiF Charitable Foundation. Kind Heart" has been helping children and adults with various diseases since 2005. You can help those who need support sign up for a regular monthly donation of 30, 100 or more rubles.
help NOW