The first lady of the United States reached Uzhgorod via Slovakia
An unexpected visit to Ukraine was made by the wife of the President of the United States, Jill Biden, who met with the Ukrainian "first lady" Olena Zelenskaya. However, the wife of the head of the White House did not make it to Kyiv, limiting herself to visiting Western Ukraine.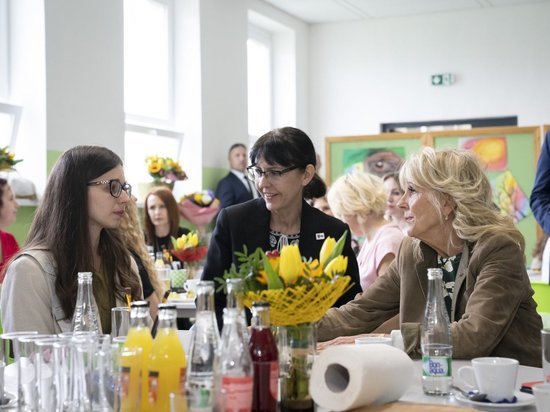 Jill Biden meets with Ukrainian refugees. Photo: press service of the First Lady of the United States.
U.S. First Lady Jill Biden made an unannounced visit to western Ukraine on Sunday, holding a surprise Mother's Day meeting with her Ukrainian "colleague" Olena Zelenskaya, writes The Guardian
U.S. President Joe Biden himself did not visit Ukraine, although he expressed a similar desire when he visited Poland this spring. He hinted that his security advisers kept him from visiting Ukrainian territory.
Jill Biden traveled under a cloak of secrecy, becoming the latest senior American to visit Ukraine during the 10-week conflict with Russia, writes The Guardian. Among those who managed to pay visits to Kyiv are House Speaker Nancy Pelosi, US Secretary of State Anthony Blinken and Secretary of Defense Lloyd Austin. Other Western leaders, including British Prime Minister Boris Johnson, also met with Volodymyr Zelensky in Kyiv.
"I wanted to come for Mother's Day," Jill Biden told Olena Zelenskaya on Sunday, adding that "the people of the United States stand with the people of Ukraine." For her part, Zelenskaya thanked Jill Biden for her "courageous act."
Jill Biden, who is on a trip to Europe to spend time with Ukrainian refugee families in Romania and Slovakia, traveled about 15 days, according to CNN. miles across western Ukraine from Slovak territory to Uzhgorod.
According to press reports, the American first lady traveled by car to the Transcarpathian city of Uzhgorod, about 10 minutes from a Slovak village bordering Ukraine.
Earlier, in the Slovak border village of Vyshne Nemecke, the US President's wife visited a border processing facility, familiarizing herself with operations organized by the United Nations and other aid organizations to assist Ukrainian asylum seekers. Jill Biden attended a service in a tent converted into a chapel, where the priest proclaimed, "We are praying for the people of Ukraine."
Before that, in the Slovak city of Kosice, Jill Biden met and offered support to Ukrainian mothers in Slovakia.
Then, already in Transcarpathia, the two first ladies – American and Ukrainian – got together in a small class, sat opposite each other at the table and talked in front of reporters before meeting in private. The school where they met turned into temporary housing for Ukrainian migrants from other parts of the country. According to The Guardian, Olena Zelenskaya and her children were in an undisclosed location for their safety.
According to US officials, the meeting between the two first ladies took place after they exchanged messages in ​​recent weeks. Jill Biden drove around Uzhgorod, and the women's meeting lasted about an hour.
As CNN notes, Jill Biden's visit to Ukraine is the first visit by the first lady of the United States to a "hot spot" since Laura Bush made a secret 10-hour visit to Afghanistan in 2008. Jill Biden herself, as America's "Second Lady" in 2010, accompanied then Vice President Joe Biden on his trip to Baghdad for the Independence Day holiday.
The White House last week announced that the president The US "would like to visit" Ukraine, but currently has no plans to do so. On Sunday, Canadian Prime Minister Justin Trudeau also made a surprise visit to Ukraine and was scheduled to meet with Volodymyr Zelensky.