The US government will repay student loans ranging from $10,000 to $20,000 as part of the president's initiative. In total, about 45 million people in the United States owe a total of $ 1.6 trillion in federal loans taken for education .jpg 673w" media="(max-width: 320px) and (-webkit-min-device-pixel-ratio: 2), (max-width: 320px) and (min-resolution: 192dpi)" >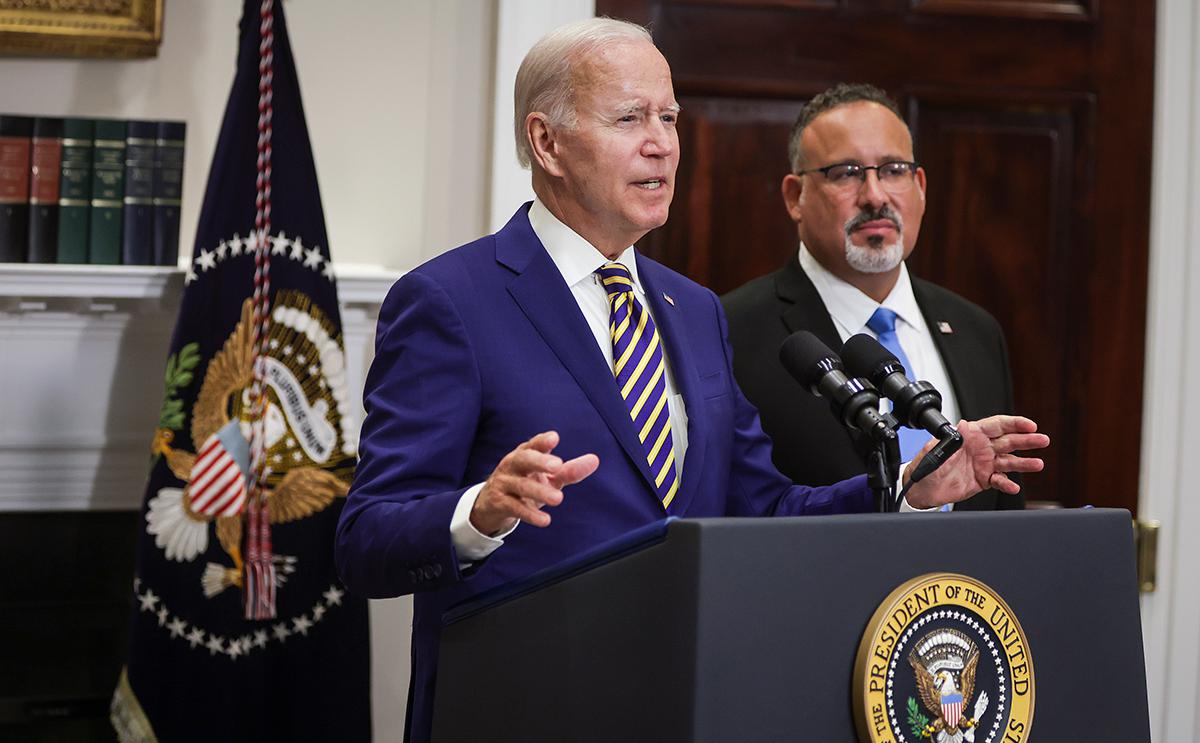 Joe Biden
U.S. President Joe Biden announced that the U.S. government will repay up to $20,000 in student loans to debt-laden former college students, thus keeping a promise he made during the 2020 election campaign.
In particular, $10,000 debt will be written off for those earning less than $125,000 a year, and $20,000— for low-income students who have received federal Pell Grants.
"This [student loan repayment] means people can start to get out of debt. Finally think about buying a house, starting a family or starting a business. And by the way, when that happens, the whole economy gets better,— Biden told the White House.
According to the White House, about 45 million people in the United States owe a combined $1.6 trillion in federal college and university loans.
The US President also announced a change in the student loan system, which should become "more manageable." Thus, it is planned to limit monthly student loan payments to 5% of the borrower's discretionary income, which will also reduce the average annual student loan payment by more than $1,000.
The US Department of Education has pledged an additional $20,000 to borrowers who have received federal Pell grants from next year to help with existing loans. In addition, the US authorities will extend the pause on student federal loan payments, which was introduced in 2020 due to the COVID-19 pandemic, until the end of the year.
Read on RBC Pro Pro Deceptive inaction: what happens to us in a dream : How to Build a Strong Employer Brand Articles Pro How to make friends with colleagues and why you need it at all: four tips Articles Pro Muscle mass affects cognitive skills. Here's what scientists say Research Pro "Vandalized naming": experts on the rebranding of Wildberries Articles Pro How to manage the family budget so that it does not come to divorceThe total amount of funds that will be used to repay loans has not yet been determined. White House domestic policy adviser Susan Rice explained that the price of the package will depend on how many people apply for it. She also clarified that those who received student loans after June 30, 2022 are not eligible to apply for debt relief.
According to the NYT, the package could be worth $300 billion.
At the same time, Republican Party representative and US Senate Minority Leader Mitch McConnell criticized Biden's plan and called it illegal. "The Socialism of President Biden's Loan Decision" it's a slap in the face for every family that donated to save up for college, every graduate who paid off their debt, and every American who chose a particular career path or volunteered to serve in our military to avoid the debt loop." he said.
Former U.S. Treasury Secretary Larry Summers also criticized Biden's initiative, warning that in doing so, U.S. inflation would further increase. "Debt relief consumes resources that could be better used by helping those who, for whatever reason, weren't able to go to college. It will also tend to inflate due to higher tuition fees,— he tweeted.
Moody's Chief Economist Mark Zandi sided with the White House, saying resuming billions of dollars a month in student loan payments "would hold back growth and lead to disinflation." .
Inflation has been rising in the United States since the start of the COVID-19 pandemic, but has accelerated to record highs in recent months. Thus, in March, the consumer price index rose by 8.5%, which was the highest level since 1981. Consumer prices soared 9.1% in June, hitting a nearly 41-year high. After that, inflation slowed down.
To curb inflation, the Federal Reserve System (Fed) raised the key rate. The last time this happened at the end of July: then the rate was raised by 75 basis points— up to 2.25–2.5%.
Authors Tags Subscribe to RuTube RBC Live broadcasts, videos and recordings of programs on our RuTube channel