Plot RF special operation in Donbass and Ukraine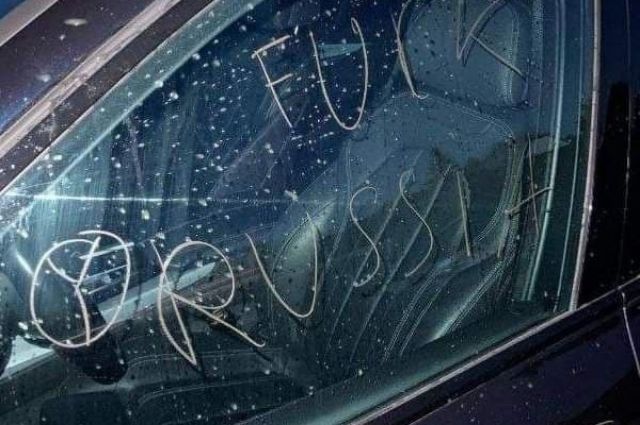 Russians who have long lived in the United States, Spain, Germany, complain that after the operation in Ukraine they were subjected to bullying. Indigenous people of the countries write nasty things to them on social networks, threaten them in the streets. Even schoolchildren began to mock their Russian classmates. It's all just because they're from Russia.
Get the hell out of Germany
"Mr. Rech. Do you have sense organs at all, or do you lack brains? <…> I urge you to leave Germany immediately and go to Russia! <…> We can do without people like you!! Please pass this on to your like-minded people! I am writing anonymously because I am afraid of being attacked by your pack, this has happened and happens often! GET OUT OF GERMANY, I CALL YOU!».
This is an excerpt from one of the letters that Russian people receive in Germany. Offensive inscriptions are written on cars, leaflets are posted, the essence of which is the same — demand for Russians to "get out of Germany".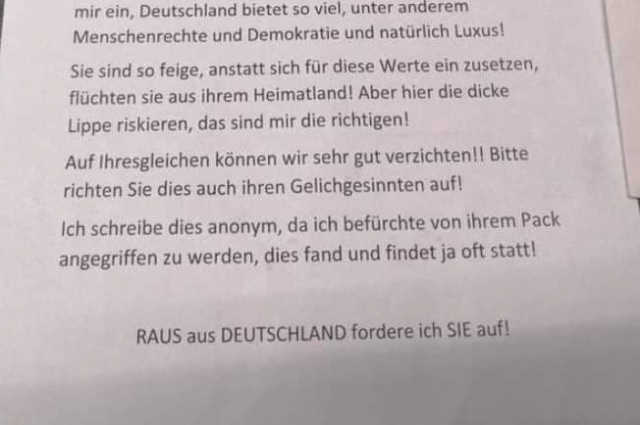 Excerpt from the letter. Photo courtesy of Ingo Trost
Ethnic German Ingo Trost is outraged that students from Hamburg were given a day off from school to demonstrate against the Russian military operation in Ukraine.
"Western propaganda against Russia and China has become unbearable . If I had the means to get out of here, I would have been with you in Russia long ago. There is nothing here that would connect me with my homeland!", — says Ingo.
Marina I moved from Russia to Germany a long time ago. She is of German origin. Her son is in elementary school and has not yet encountered bullying on a national basis. But Marina, just in case, told him to say that he was born here.
"My clients are Germans. They didn't say anything against me personally, — says Marina. — But if my children are touched, I will tear for them.
Marina heard about only one case of harassment of Russians, when the owner of a German restaurant wrote on the institution's website that he would not let people in with a Russian passport.
"Everyone immediately began to write negative reviews on his personal page. At the same time, most of the comments were left by the Germans themselves. As a result, he was forced to close his restaurant for a while, — says Marina.
"Confess that you are Russian"
The facts of a special and often unfriendly attitude towards Russians are also confirmed by compatriots in the United States.
"In Miami, a client called a Russian manicurist and said that she would not come to her again because she was Russian, — wrote a blogger from Brooklyn Ekaterina Ryumina in her post. — My closest friend's son was having a birthday in Florida, and two men got into a fight at the party. One started yelling to make my friend, who has already lived in America for almost 40 years, accept the fact that it is shameful to be Russian.
Screenshot
Ekaterina writes that more than twenty Russians sent messages to her in a personal message, who were hunted down in social networks. People are told that they should admit that they are Russian by nationality, this is their fault and they should be ashamed.
"Groups where the word 'bdquo; rush' slips through? change their names so they don't get banned. Instead of "Russian Moms" now "Russian-speaking mommies", — Catherine writes. — Why are you doing genocide here? … Write "I'm ashamed of the birches, I'm ashamed that I speak Russian, I'm ashamed that I'm Russian" — this is stupid? how stupid it was to kneel during Black Lives Matter – ed. note) and write "I am a Jew, and I kiss the feet of these comrades because I am white. Forgive me"».
Ekaterina Ryumina wrote a very emotional post calling on social media users to come to their senses.
"Who invented these threats in a personal message about the flag of Ukraine not stuck to the profile picture? Who ever invented that if you don't sculpt a flag, then you are FOR the war? — blogger writes. — On your flags attached to avatars, the colors of grain fields and a peaceful sky. May strength and patience be with you. But God bless you from the fierce hatred that has already overwhelmed all the visible and invisible boundaries of common sense.
Nadinefrom New York, she herself witnessed an unpleasant scene on the street. When an adult large man attacked young guys who were listening to Russian music.
"He was clearly from the west of Ukraine. He had a specific Ukrainian accent. I myself — Russian, and her husband — Ukrainian. Therefore, he can distinguish one dialect from another, — says Nadine. — We are very worried about the events that are taking place in Ukraine today. My heart is breaking into pieces. Because I may never see my parents again. Every day my husband calls his relatives and friends in Ukraine to find out who has what happened and how we can help.
"The child is proud to be born in Russia"
There are also cases of bullying in Spain. Older children already face aggression from peers in schools. So the son of Olga, who has been living in Spain for 10 years, was told by his Spanish classmates: "Ukraine will kill you."
Russian mothers in Spain worry about their children. Photo: Screenshot
"He said that his mother — Ukrainian, — says Olga. — At least it didn't go too far. If it happens again, I will go to the teacher, then to the director. Only this was not enough for us … The child was so proud that he was born in Russia, and now he will be ashamed of it.
There are no Russophobic moods
However, the oppression of Russians does not occur in all countries. So there are no Russophobic sentiments in Indonesia.
«The only thing I encounter — it's an overvalued currency, — says Alexander Voronkov. — Recently I was at a children's birthday party with my son in a Ukrainian company. Everyone is worried, on their nerves, but there were no provocations. Everyone understands the difference between the actions of the government and specific citizens. This makes me happy. The Indonesians are also worried about the Russians.
There is no hate towards Russians in Turkey either. "We did not feel any harassment in Turkey, the Turks are mostly loyal, — says Oksana. She is half Ukrainian. — I am against war and I am very hurt and sorry for ordinary people. But I do not tolerate fascism, and I would not tolerate NATO with their laboratories on Ukrainian territory either.
screen»
Due to the tense situation in Europe, anti-bullying lessons have been resumed. But can they stop the bullying?

«When the cause of a negative attitude towards a person is not his specific actions, but belonging to a certain social group (including on a national basis), much depends on the attitude towards this of all parties involved in raising children, — says teacher Vyacheslav Smolnyakov. — And here it is important how the parents of other children will form their attitude towards a Russian classmate. How to a resident of the same country where they all live? Or as a representative of the nationality to which the student belongs? If parents massively invest in the heads of children attitudes on a national basis, then the lessons of tolerance will not help. The lessons of tolerance should show the equality of rights for all children, regardless of nationality. However, in my opinion, there is no question here that a Russian or, say, a German student is not equal. In such situations, bullying occurs for a different reason: the child is credited with responsibility for the actions of an entire country. And in this case, the lessons of tolerance will also not bring any result.
The teacher believes that the "lessons of tolerance" in this case — just a beautiful "screen". They imitate the desire to solve the problem. In fact, anti-bullying lessons have nothing to do with stopping bullying.